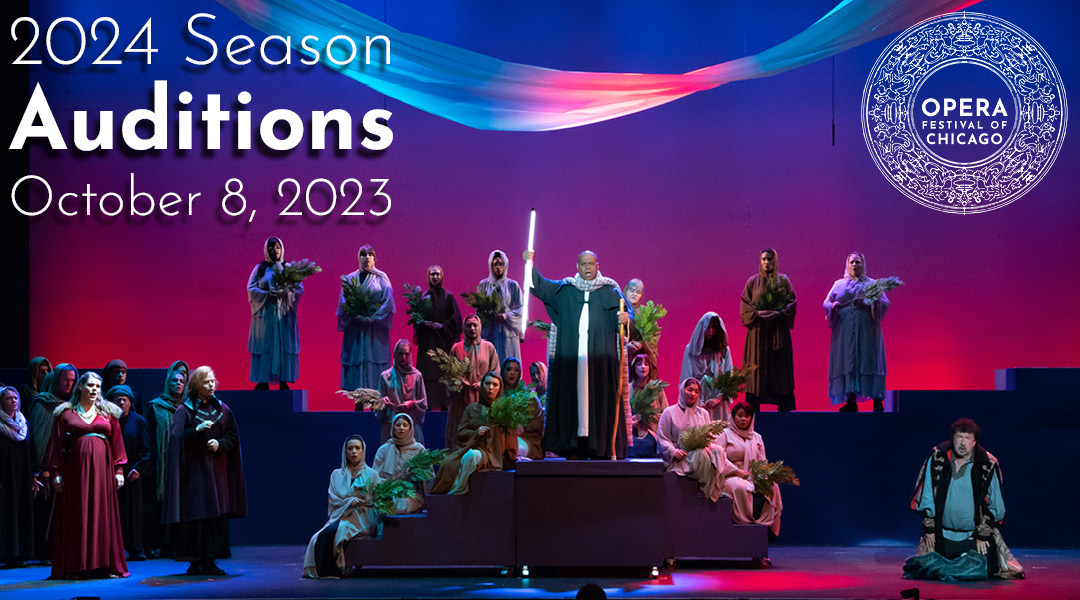 The Opera Festival of Chicago will be holding live auditions for its fourth season on October 8th, 2023 at Roosevelt University Chicago College of Performing Arts.
430 S Michigan Ave, Chicago, IL 60605
This audition is for Leading Roles, Chorus and for Young Artists.
Please bring one aria or song in Italian.
For Roles bring two appropriate Italian arias in your vocal category.
A warm up room will be available 20 minutes prior to the selected audition time.
We are currently looking to cast the following voice types for our upcoming seasons.
Dramatic Soprano
Full Lyric Soprano
Dramatic Mezzosoprano
Lyric Mezzo Soprano (especially Verdi, Donizetti, lyric and/or verismo style)
Contralto
Full Lyric Tenor
Lyric Tenor
Dramatic Tenor
Character Tenor
Lyric Baritone
Dramatic Baritone
Bass-Baritone
Basso cantante
Lyric Bass
Pianist Yasuko Oura will be present for all the auditions.  If you wish to have Yasuko play for your audition, please pay a pianist fee of $25 at the beginning of your audition, payable directly to Yasuko Oura in the form of cash, Venmo, or Zelle.  You are also welcome to bring your own pianist.