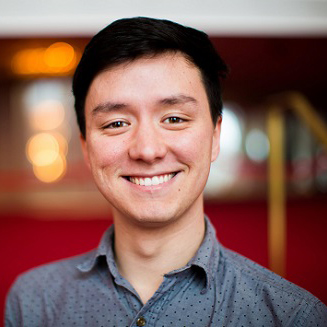 Associate Director, L'Inganno Felice
Gregory Keng Strasser is a director and writer. His work spans theatre, opera, video games, and film and has been performed in Washington DC; Baltimore, Bethesda, Arlington, Winchester; and abroad in Bangkok, Thailand; Holstebro, Denmark; and in Ubud, Indonesia.
DIRECTING: The Infinite Tales (4615 Theatre), Song of Achilles by Madeline Miller (Shenandoah University), Hin und Zuruck by Hindemith/Les Mamelles de Tiresias by Poulenc (with Alison Moritz, Peabody Opera Theatre), 410[GONE] by Frances Ya-Chu Cowhig (Rorschach Theatre), Doi Nang Non (K-Bank Siam-Pic Ganesha Theatre), Dark City: A Solarpunk Noir Video Game (4615 Theatre), The Odyssey (BCPA) and many new play workshops, readings, short films, commercials and more.
WRITING: Strasser has received commissions in film, theatre, and games from Arena Stage (May 22, 2020; The 51st State), 4615 Theatre (Dark City and The Infinite Tales), Rorschach Theatre (Rep Us All); Adventure Theatre-MTC, the Brighton Center for the Performing Arts, and others.
Strasser serves as the Producing Director for the Helen Hayes-award winning 4615 Theatre. He was the 19-20 Allen Lee Hughes Directing Fellow at Arena Stage, assisting Molly Smith, Seema Sueko, and Carey Perloff. He completed a year-long stay in Bangkok where he taught English, drama and made theatre with Thai artists and various NGOs. He is a two-time recipient of the Washington DC Commission on the Arts & Humanities Fellowship.
Born in Michigan and raised between Bloomfield Hills and Shanghai, Strasser loves hot, sweltering days; cooking big group meals; and Caroline Givran's fitness videos.