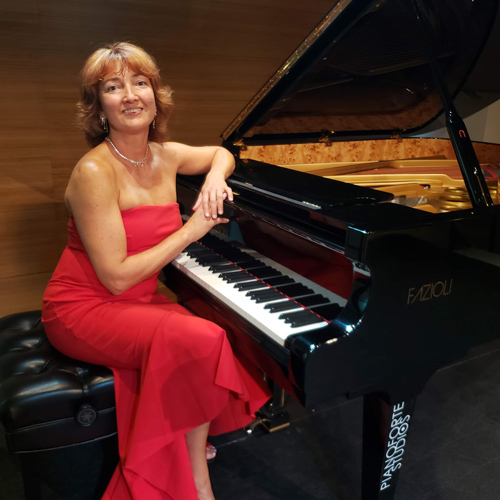 Irina Feoktistova (pianist), graduated from St. Petersburg Conservatoire, Russia. A classically trained pianist, she has toured Russia, Europe, and the United States as a soloist, duo pianist, accompanist; collaborating with the world's leading singers such as Vladimir Galousine and Andrea Silvestrelli.
Ms. Feoktistova relocated to the United States in 1998, and since then she has been involved in numerous musical and opera theater productions as an accompanist, vocal coach, assistant conductor and music director.
Her credits include: working as a Russian coach for the CSO production of Prokofiev's "Ivan the Terrible" with Gerard Depardieu, COT– Thchaykovsky's Iolanta and Rahmaninov's Aleko, and Lyric Opera of Chicago productions of Tchaykovsky's Queen of Spades and Musorgsky's Boris Godunov.
She is affiliated with the Appolo Chorus of Chicago and Chicago Children Choir and is on faculty of Northwestern University as an accompanist and Ryan Center of Lyric Opera of Chicago as a coach.
In 2020 she started new project "Colors in Music" and in December 2021 she performed live Scriabin's Poem "Vers La Flamme" with color animations (London, UK)
Her recordings include:
"Chopin the Enchanter"
"Poems and Fairy Tales"( Medtner and Scriabin)
Samuel Barber's Hermit Songs
Russian and American contemporary music "Musical Bridge√Chicago√St.Petersburg"