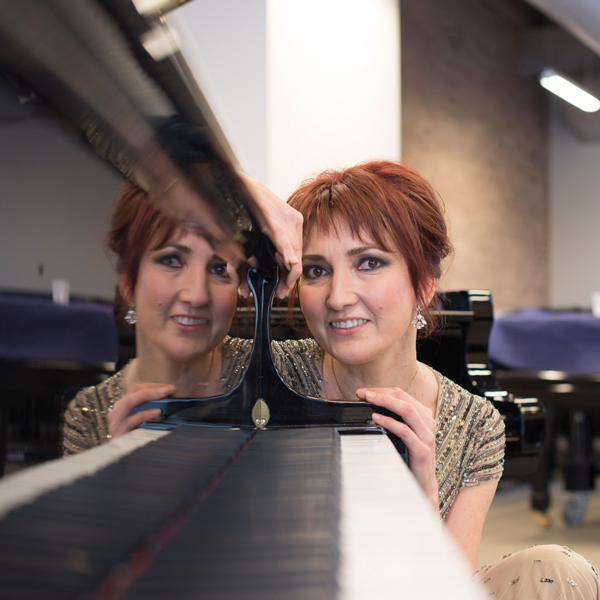 Irina Feoktistova (pianist), graduated from St. Petersburg Conservatoire, Russia. A classically trained pianist, she has toured Russia, Europe, and the United States as a soloist, duo pianist, accompanist, her collaborations include the world's leading musicians, most recently internationally acclaimed Italian singer Andrea Silvestrelli.
As a duo pianist, she won third prize at the First International Competition of Contemporary Music Interpretation in Weimar, Germany (1996) and was chosen to perform at Purcell Room in London for the Park Lane Group Young Artists Concert Series. As a piano soloist, she won the Kawai CD Recording Competition in 2004
Mrs. Feoktistova relocated to the United States in 1998, and since then she has performed extensively in the Chicagoland area. She has been involved in numerous musical theater productions as an accompanist and music director. Irina made her Carnegie Hall debut as a soloist and an accompanist with Russian singer Vladimir Galouzine for The Russia Day concert on June 12th, 2008.
She has connections with London, UK, where she presented her recent project "Colors in Music" performing in 2021 for the festival "Stars of the Albion" Scriabin's poem "Vers La Flamme" with the colore animations (created by visual artist Evgenia Pirshina). Mrs. Feoktistova is affiliated with Ryan Center of the Lyric Opera of Chicago, Appolo Chorus of Chicago and Chicago Children Choir "Uniting Voices Chicago".
She is on faculty of Northwerstern University. In Summer 2022 Mrs. Feoktistova joined Opera Festival Chicago as an accompanist and vocal coach. https://www.youtube.com/@irinafeoktistova1756
Her recordings include:
"Chopin the Enchanter"
"Poems and Fairy Tales"( Medtner and Scriabin)
Samuel Barber's Hermit Songs
Russian and American contemporary music "Musical Bridge√Chicago√St.Petersburg"