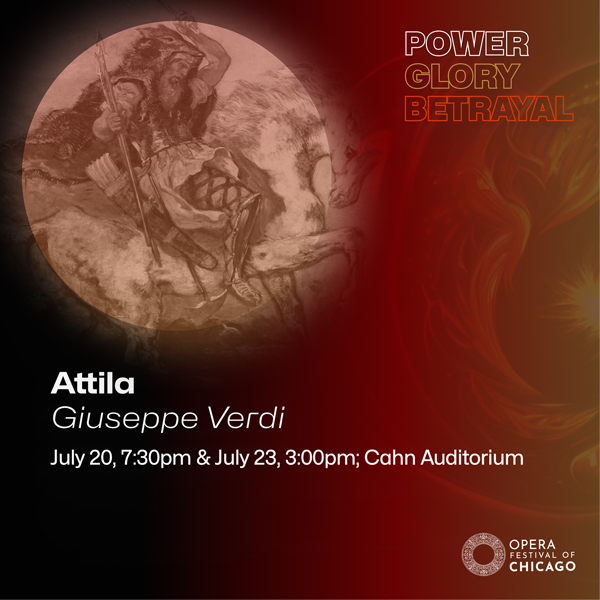 7:30PM, Thursday, July 20, 2023
Cahn Auditorium
3:00PM, Sunday, July 23, 2023
Cahn Auditorium
Libretto by:
Temistocle Solera
Emanuele Andrizzi
Conductor
George Cederquist
Director
Jack Mehler
Scenic Designer
Emily Daugherty
Costume Designer
Mike Goebel
Lighting Design
Cathy O'Shaughnessy
Assistant Conductor
Natalja Aicardi
Movement Director
Performed in Italian
with English Supertitles
Running Time:
120 Minutes (there will be a 15 minutes intermission)
Doors to the performance hall will open approximately 30 minutes prior to performance time.
Verdi's popular 1846 opera in a prologue and three acts takes us to the mid-5th century near Rome following Attila, King of the Huns. A story of Power, Glory, and Betrayal, Attila was Verdi's 9th opera and has been one of his most popular earlier works with soaring melodies, giant choruses within this epic tale.
Andrea Silvestrelli | Attila

Jenny Schuler | Odabella

Franco Pomponi | Ezio

Patrick Blackwell | Leone

Ben Gulley | Foresto

Reuben Lillie | Uldino