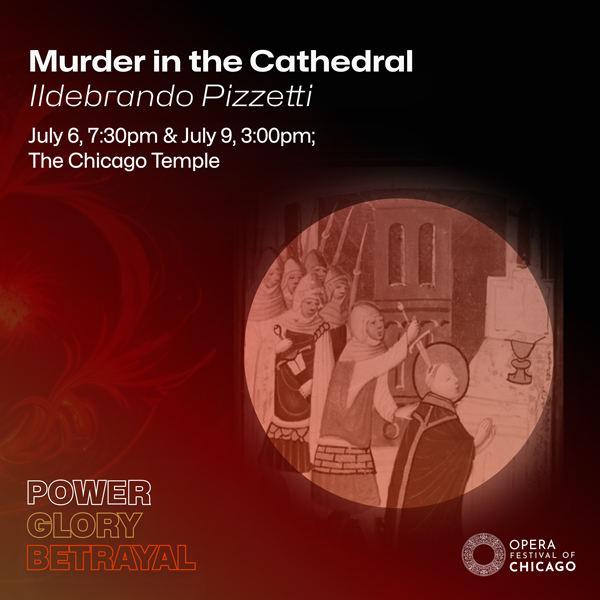 7:30PM, Thursday, July 6, 2023
The Chicago Temple
3:00PM, Sunday, July 9, 2023
The Chicago Temple
Music by:
Ildebrando Pizzetti
Emanuele Andrizzi
Conductor
Emily Daugherty
Costume Designer
Mike Goebel
Lighting Designer
Gisella Milla
Assisstant Director
Performed in Italian
with English Supertitles
Running Time:
85 Minutes (there will be no intermission)
Doors to the performance hall will open approximately 30 minutes prior to performance time.
From the writing of T. S. Eliot's 1935 play, "Murder at the Cathedral" remains one of Ildebrando Pizzetti's most celebrated compositions. This dramatic opera portrays the assassination of Archbishop Thomas Becket in Canterbury Cathedral during the reign of Henry II in 1170.
*Ferrucio Furlanetto, previously announced to sing the role of Thomas Becket, has withdrawn from this production to focus on his recital which will take place on Thursday, July 13, 2023 at the Harris Theater. Replacing him will be Andrea Silvestrelli.
Andrea Silvestrelli | Thomas Becket

Maria Kanyova | First Coryphée

Anna Laurenzo | Second Coryphée

Reuben Lillie | First Knight/Tempter

William Powell III | Second Knight/Tempter

Patrick Blackwell | Third Knight/Tempter

Eric Dubin | Fourth Knight/Tempter

Michael Rivera | First Priest

Jeff Ray | Second Priest

Frank DeVincentis | Third Priest

André De Mesquita | Herald